So how much does it cost to wrap a car? This article covers all aspects about car wrap costs. By the time you've looked through it, you'll know which car wrap you want and what you can expect to pay. There are even cool tools you can use to see what a wrap will look like on your car before paying for the wrap. Note: We also include how to wrap it yourself if you're feeling confident… Now let's dig into the details…
Included in This Article:
What is a vinyl car wrap?

What does a car wrap cost?

How long does vinyl wrap last?

How to Wrap Your Vehicle Yourself

And More…
What is Vinyl Car Wrap?
A vinyl car wrap can best be described as a giant, removable sticker for your car, truck, van, motorcycle – you name it. It's often used by companies as mobile advertising on their fleet of cars. It's also a fast and convenient way for NASCAR race cars and trucks to change their appearance from race to race. However, since vinyl wrapping technology has advanced a great deal in the past few years (and dropped in price), consumers are beginning to wrap their cars just for fun.
Vinyl wraps do not harm your paint whatsoever and they are fairly easy to remove.
Car Wrap Cost
So how much does it cost to wrap a car? The cost of a vinyl wrap depends on many factors. The make and model of the vehicle, whether you want a full or partial wrap, the style of the film selected, graphic design features, and whether you want professional installation or looking to do it yourself all play into the final cost. Basic partial wraps, just a roof or just a hood of a car for example, professionally installed can start at around $250. Full wraps can start at $2,500 and go as high as $6,000 and beyond. Again, it will depend on all of the factors listed above so it is difficult to give a definitive cost. But let's discuss each factor in more detail to provide an assessment of what each might add to the final cost.
As you can see, this is why mostly high-end cars or business vehicles get wrapped. It's still pretty expensive. But as time goes on and technology evolves, wraps will make their way into more high school parking lots.
Car wrapping prices can be expensive but they can last a long time when properly cared for so it's not too much more expensive than paint.
Make and Model
Clearly the size of the vehicle is going to affect how much vinyl is needed. A Mini Cooper will cost less to wrap than a full size van. The curves and bumps on a vehicle are also going to affect how easy it is to apply the vinyl wrap. It is more difficult to smooth out the bubbles and get the vinyl wrap to lay flat on a curve as opposed to sharp edges. So a curvy car such as a VW Beetle is going to require more smoothing around its curves than a boxier vehicle such as a Nissan Cube. Therefore the make and model of your vehicle will affect the amount of time needed to properly cover the vehicle and in turn will affect the final cost. How much does it cost to wrap a truck? Of course more expensive because of the larger surface area and thus more wrap and more man hours needed. Motorcycle wrap cost? Use the same principals but in reverse. Motorcycle wraps are really cheap in comparison and since fewer things needed to be removed, can be done in much less time.
Full or Partial Wrap
A full wrap is just like it sounds: your entire vehicle will be covered by the vinyl – including door jams though not including the engine bay. A partial wrap is anything less than a full wrap. A full wrap will cost more than a partial wrap. If you own a small company and want to use your vehicle to advertise, a partial wrap may be all you need. A hood, roof, or side panel wrapped with your company's name, logo and contact information can make an impact and bring more business through your door. So of course a trunk wrap cost is going to be different than a full body wrap. Roof wrap costs are generally very cheap because the surface is flat which makes it easy to apply the wrap. Also, roof wrap costs are low because, on many cars, nothing needs to be removed in order to get the wrap to tuck nicely.
Vinyl Wrapping Just the Roof
Adding a vinyl wrap to your car roof can make it look like a completely different vehicle, for just a fraction of the cost of a full car wrap. Typically, roof wraps are used to add patterns to vehicles or to streamline the look of the vehicle by adding a contrasting color. Going with the carbon fiber looks is pretty popular to do on just the roof as many sports cars have carbon fiber roofs designed for high center of gravity weight savings. You can even add a different texture to your car hood with a textured wrap. As with all car wraps, the price depends on how large your car is and what type of vinyl you choose. From information gathered from different people who have wrapped only their roofs, the average cost to wrap just the roof is around $250.
Types of Wraps: Chrome, Carbon, Matte, Etc.
Wraps are either digitally printed or pre-cured. If you have a custom design for your wrap, a company logo for example, you would have that design digitally printed onto the wrap film. Because of the graphic design work necessary to create the wrap, this is going to add to the final cost of the project. Pre-cured wraps come in a variety colors and textures and are ready to apply to the vehicle.
Paint replacement wraps: If you wish to change the color of your vehicle, this may be the type of wrap for you. These types of wraps can be pricey ranging from $2,500 to $6,000. However, it still may be cheaper than repainting an entire vehicle. This is the type of wrap where you could choose from a pre-cured design and texture.

Graphic advertising wraps: This is the type of wrap used to advertise your small business. The cost for these types of wraps start at about $250 but can go as high as $4,000, again depending on whether it's a full or partial wrap you need. This type of wrap would be digitally printed because of the custom design.
Vehicle restyling wraps: Perhaps you want racing stripes on your Camaro or a black roof on your 328i. This is the type of wrap for you if you simply want to add an accent or detail to your car. This type of wrap would be pre-cured.
Vinyl Film Styles and Average Costs
carbon fiber, gloss, matte black, and other matte wraps. You can even make custom wraps.
The price varies greatly between manufacturer and supplier. For the purpose of this article, prices have been gathered from Amazon for consistency. You should be able to wrap a midsize car with 300 square feet of vinyl wrap. Since they're often sold in rolls that are 5 feet wide, you'll need a 60 inch roll for a midsize car.
Carbon Fiber
This type of wrap comes in matte, high gloss or brushed metal finishes. Since it allows you to reposition it, you can easily install it on your roof, fenders, hood, spoilers, interior dash areas, and side view mirrors. Plus, and less expensive than buying a genuine carbon fiber hood. Following are prices from Amazon:
Examples of carbon fiber wraps can be found here.
Gloss
This type of wrap has a shiny, reflective, glossy sheen. Following are prices from Amazon:
Examples of gloss wrap can be found here.
Matte Black
Matte black wrap costs can be pretty low (or any matte color, really). Like the name implies, matte vinyl wraps have a dull sheen to them. These types of wraps are not shiny or glossy. Following are prices from Amazon:
For examples of these types of wraps, click here.
Chrome
One of the trendiest vinyl wrap finishes on the market, chrome looks like, well, chrome. Chrome vinyl is the most expensive film and most difficult to install. Following are prices from Amazon:
Examples of chrome wrap can be found here.
Custom
If you want your car wrap to advertise a product or service, or if you simply want a unique design for your car, a custom vehicle wrap is an alternative to a paint job. The good thing about choosing a wrap for a custom design instead of painting it is that the wrap is removable, meaning it isn't permanent and can be removed to reveal the car's original paint job. Plus, they're easy to maintain, since they require no waxing and only the occasional wash. Websites such as www.custom-car-wraps.com allow you to design a mockup of your car wrap and then submit your design for a quote from a wrap shop in your area.
As far as the price of a custom vehicle wrap, this is again dependent on a variety of factors. However, the general consensus is that custom wraps tend to be less expensive than custom paint jobs. A custom wrap averages between $500 and $4,000 while a custom paint job ranges between $1,000 and $10,000. Keep in mind that prices may be higher or lower depending on specifics.
Choosing the Right Vinyl Wrap
Your final selection of brand, finish and type of film will all determine the final cost. You should speak to a qualified vinyl wrap installer to determine the best brand and type of film for your car wrap needs as there are numerous different combinations. To find a qualified Avery-Dennison installer, click here. For a comprehensive list of vehicle wrap installers across the United States, click here. Another car wrap directory can be found here.
Test Drive How a Vinyl Wrap Will Look on a Certain Vehicle
There is a great poster that can be downloaded from 3M of the different colors and finishes offered by 3M. It can be handy for holding up to your exact vehicle and envisioning which color may look best. You can find it here.
But even better is the 3M website is a vehicle wrap customizer that allows you to see how a vehicle will look after it's wrapped and also how to find a wrap installer near you. Though you can only select from a handful of vehicles but it's still pretty cool. Click the image to go play with it: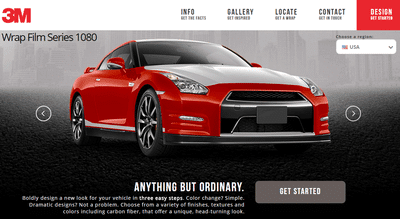 How Long Does Vinyl Wrap Last?
How long do car wraps last? The lifespan of your vehicle's wrap will last will depend upon the quality of the film selected, how well the paint was cleaned before the vinyl applied, how many miles you drive and on what kind of terrain and the environment in which you keep your vehicle. For example, a car with a vinyl film wrap that is kept outside in the elements (sun, snow, rain, etc.) isn't going to last as long as a car that is kept in a garage. Hand washing your vinyl wrapped vehicle on a regular basis will also help extend the life of the wrap (yes, you can wash vinyl just like paint). On average, vinyl wraps can last 7 to 12 years. Graphic print wraps can last 5 to 7 years. However, the wrap will not stay perfect for this long. Problem areas include areas where the wrap has been tightly applied such as around spoilers and other sharp edges. The front bumper cover also gets a beating so it will begin showing tears and bubbles faster than anywhere else.
Once your vehicle's wrap is ready to be removed, you can take your vehicle to a professional car wrap installer for removal. If you wish to remove the wrap yourself, you will need a heat source (such as a hand held hair dryer or better – a heat gun) to heat the wrap as you carefully remove the wrap at no more than a 45 degree angle. For more information on removing vinyl wrap click here.
So how long does car wrap last? It depends but if it's well cared for – quite a few years. But if it's constantly being exposed to UV rays, road chips, smoky burnouts and the like – expect a short lifespan. And keep in mind that a vinyl wrap will rarely look perfect for long.
Does Vinyl Wrap Offer Paint Protection?
Despite popular belief, vinyl wrapping a car doesn't protect your car's paint very well. For a science lesson on how well vinyl wraps protect your paint (compared to a clear paint protection adhesive, for instance) watch this video (7:20 is where they demonstrate how well a wrap protects your paint):
Can I Wrap My Vehicle Myself?
The short answer is: yes. You can get a complete car wrap toolkit with everything you need for $29.99 and your own wrap which can be found on Amazon for not too much money – even carbon fiber weave wrap.
Though keep in mind that applying vinyl wrap is a tricky task requiring patience, a steady hand, a friend to help, tools that most people don't already have and many, many hours – even if you're a professional. Plus much of the car must be disassembled so the wrap can be tucked into panel gaps: think door mirrors, headlamps, tail lights, bumper covers, etc.
And if you're a beginner you may want to start with a small vinyl wrap application such as wrapping a simple hood as opposed to wrapping your entire vehicle as your first project. Applying vinyl wrap is definitely a skill. Though if you nail it – you can be very proud and maybe even wrap your friend's vehicles now that you're good at it. The following are the basic steps to apply a vinyl wrap:
How to Vinyl Wrap a Car
The first step is to measure your vehicle to ensure you purchase the correct amount of vinyl wrap. Don't forget that the vinyl will need to wrap around panels.
Wash your car thoroughly. Vinyl wrap does not adhere well to dirt, oil and wax. The same goes for rust spots or chipped paint – those sections will need to be properly repaired before applying the vinyl wrap for maximum adhesion. Strip any wax from your paint by using a wax stripping product such as the Dupli-Color PS100 Prep Grease and Wax Remover Prep Spray
Remove items such as door mirrors, head lamps, etc. as necessary in order to wrap entire body panels
Check all measurements and placement of the wrap. Measure twice, cut once.
Use a squeegee to apply the wrap being careful to smooth out all the 'bubbles'. Imagine you're applying the protective film on your smartphone or tablet.
Use a razor to cut away excess vinyl. This is where you really need to be careful as you can easily cut through the vinyl to your car's original paint job and scratch it.
Next use heat application to continue to smooth out creases. A small blow torch can serve the purpose. Again, you need to be careful with this step; be sure to keep the torch moving and don't settle it on one spot for too long.
Step back and look at your transformed car.
Car Wrap Cost: Conclusion
How much does it cost to wrap a car? $2,500 to $6,000 generally. But you can get a partial wrap for as little as $250. You can also wrap your car yourself by getting a tool kit, sourcing the wrap on a site like Amazon and if you have a small car – the car wrapping price may even fall below $1,000 for the entire thing.
The cost to wrap a car isn't cheap. And if you're looking to do one because your car's paint is failing – painting is likely to be cheaper.
At the end of the day – vinyl wrapping a car is awesome. You can go carbon fiber, gold chrome, light reflective, camouflage, you can advertise your company, you can blackout your roof to make your car look more modern – the possibilities are endless. Keep in mind too that if the car wrap cost is too high for you right now – the technology is progressing. Give it another few years and the cost to wrap a car will likely decline dramatically. The cost to wrap a car has already gone down dramatically in the last two years alone.
Question? Get it answered within 24 hours by leaving a comment below.