We all have junk. Clutter amassed over the years, toys your kids have grown out of, or maybe you lost weight and those old clothes are just taking up space. Whether you're trying to finance something or just looking for a more Zen way to live, it feels great to know you're saving money at the same time. Facebook yard sales are your ticket to decluttering.
Why Facebook?
Online selling giants like Amazon, eBay, and Craigslist/Kijiji are all trying to tempt you into selling with them. But, right now a revolution is taking place among the selling communities on Facebook and here's why you should sell your stuff on Facebook via Facebook yard sales, garage sales, or just simply posting a single item for sale on Facebook:
It's Free!
The alternatives out there can be costly. Take eBay, for example. It brags the ability to rid you of your clutter and bulk up your wallet simultaneously. But, really, it's just an expensive middleman. Let's say you're selling your old power drill on eBay for $10.75, plus $5.00 shipping. eBay may have tempted you in with one of its 50 free listings per month, but it will take a cut of your final sale and shipping price, totaling $1.58. You'll pay this at the end of the month when eBay invoices you for your selling activity. But, the insanity doesn't stop there: If you choose to be paid by PayPal, eBay's payment partner through which it primarily encourages payments, PayPal will help itself to another 2.9%, plus $0.30 for every transaction. That's another $0.75. In total, you've paid $2.30 worth of the $10.75 power drill you photographed, listed, answered buyers' questions regarding, and carefully packaged to ship, to middlemen. Facebook yard sales are free.
Amazon is also guilty of this. The retail giant lets you sell as an individual, as opposed to a "professional," for free. But, don't think you've avoided its listing fees ($0.99 per item), referral fees (lingering around 15%, but going up to an eye-watering 45%), and closing fees (usually a flat rate of around $1.35).
If you're selling for big bucks or specialist/rare items, Amazon and eBay could be for you, with their abilities to filter specifically. But, there's one major problem with eBay, Amazon, Craigslist/Kijiji, and the like…
Facebook Has About 2 Billion Active Monthly Users, and Growing…
People were looking for something, seeking it out directly. Of course, people do this on Facebook, too, when looking to buy an item locally. But, Facebook has another rather simple offering that vastly increases your chances of selling…
It's easy to hoard friends on Facebook — we're all guilty of it. But, when it comes to Facebook yard sales, these collected profiles can help spread the message far and wide.
We've all scrolled through our Facebook news feed and thought, "Who on Earth is that?" As it turns out, some distant relative or one-time friend has interacted with a picture or post belonging to one of their own contacts. While the contact may be a complete enigma to you, their grinning selfie still pops up on your homepage.
Usually, these posts are boring — but in the world of online selling it can be quite useful.
Maybe a distant Facebook user didn't even know they were looking to buy a used blender. That is, until their college friend's ex-girlfriend from five years back liked the sales ad you posted. They conveniently saw it on their news feed.
Who knows what corners a simple upload might reach?
Nothing-To-Lose
Selling on Facebook yard sales and the like should always be your first port of call for the simple reason that it's free. You have nothing to loose. It's also very quick, unlike eBay, for example. That site is a pain to sell on, in comparison.
A Transparent System
Facebook can also be a good indicator of what will or won't sell elsewhere. On Craigslist there is no real way for your potential buyers to tell how much interest there is in a post, and therefore whether they should make a speedy move. On Facebook, while the actual fine-tuning of the deal may be done through private messages, likes and comments on the existing post and similar older posts are a good indicator to potential buyers of whether they should snap up your bargain. Visual traffic is a very handy deal-maker.
Anonymity Banished
Selling on Craigslist can be largely anonymous. As a seller, you have no idea who you are talking to, and it can be kind of daunting. An email address is only revealed if contact is made between buyer and seller. Facebook eliminates this, as each user has a profile. Selling on Facebook yard sales, etc. is more transparent. Although many aspects of a persons life will probably be private, you should still be able to see the profile picture of who you're talking to and may potentially sell to. Fake profiles are normally easy to spot. And, the administrator of the group (if you sell in a group) will be responsible for regulating — responding to complaints regarding fake profiles and removing them from the community.
Suggested Article: How to Make a Full-Time Income on Etsy
How to Start
Maybe now you're thinking about that unwanted junk in your home and considering giving a Facebook yard sale a go, but are wondering how to go about it in that sea of 1.55 billion active monthly users. This step-by-step guide aims to help you successfully navigate the realms of Facebook yard sales and, hopefully, make a few dollars in the process.
Step 1: Find Groups
The best way to find groups is to start by searching your zip code and town/city along with words like "yard sale," "garage sale," "buy," or "sell." There will probably be more than one group in your area that meet your criteria. Remember, volume is key. Join as many groups as possible to enhance your chances of reaching the next owner of your old dog bed. You may have to be approved by a group administrator, but for a busy, active group this should take less than 24 hours.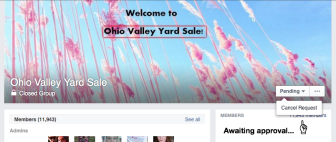 Step 2: Advertise
Your ad will be a post, just like everything else on Facebook. Keep it simple and relatively short, written in good English. Have a scroll through other sellers' posts to see what kind of information they've included. A brief description, the price, and a general location are often enough. Don't hand out your exact address! People can then contact you for further information or negotiations. Don't forget pictures — they should be appealing and show your item from all angles. A phone pic is fine, but take them in natural light and make sure they are representative of the item.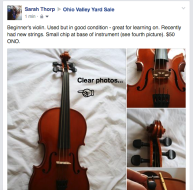 Step 3: Wait for the Messages to Roll In
Buyers can contact you by writing on the post itself or by private message. You may need to check your settings to make sure you allow private messages from people who aren't on your friends list and don't forget to check the "Filtered" folder (on the dropdown box in your messages), where messages from non-friends are sometimes directed. Don't forget people are more active online at certain times of the day (i.e., lunchtime, early evening).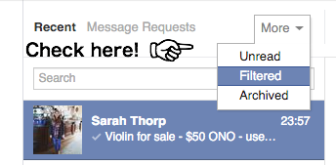 Step 4 – No Luck Yet? BUMP It
BUMP stands for "bring up my post." By commenting on the post you can bring it to the top of the group's wall, and to the immediate attention of buyers. Avoid those time-wasters by adding a note to your post which requires a confirmation of sale within 24 hours (or more, or less) and that it will become available again if no further contact is made by that time.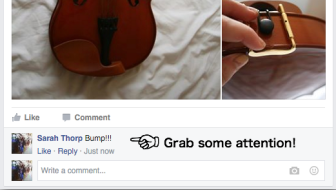 Step 5: Exchanging
Meet your buyer in a bustling public place and always deal in cash. It's worth bringing change in case your buyer shows up with a twenty for $7 worth of stuff. If they have to come to your house, for a bigger item perhaps, try and deal on the doorstep. Have the item prepped and ready to go, and, if you can, have company. It's nice to think that everyone is honest in the world, but it's much better to be safe than sorry, and safety is paramount.
However, the nice thing about selling locally is that you never know when you might see your old bag getting a new lease on life with its new owner. Perhaps the buyer likes books or baking as much as you do, too (they certainly have the same taste in clothes as you) and you might even make a new friend in the process.
Lastly, It's All About Etiquette
Sell as you'd like to be sold to — even if you're just pitching an item on a Facebook yard sale. Be polite, friendly, and helpful — but most of all be honest. If it has a stain, say so. If there's a dent, point it out. Bad experiences drive potential buyers and sellers away, so be a good member of the community, abide by the rules, and watch it flourish.
The Verdict
Facebook yard sales are a fun, free, and an easy way to declutter your life and make some cash. But, as with everything, there are success stories and there are not. If you're struggling to make headway — perhaps there's a lack of groups in your area or you don't agree with the rules of the group you've joined — why not be the change you wish to see and start your own yard sale group?
There's nothing stopping you being the next "Phoenix Buy / Sell / Swap!" Perhaps you could go one step further and host your own offline garage sale — take advantage of already popular Facebook groups to drum up interest (and potential sales). You'd be surprised at what people are looking to buy and whether or not you have it lurking unused in your garage, so join some groups today and see what the movement is all about.
If you've had success selling your stuff on Facebook, leave a comment below telling us how you got on, and whether any of these tips helped you. We'd love to hear from you.
Suggested Next Article: These Are the Legit Jobs That Allow You to Work at Home