Choxi, which in 2015 changed its name to NoMoreRack, changed names again in 2017, now going by the name jClub.
What Is It?
Choxi (name changed from NoMoreRack back in April 2015), is a New York based e-retailer colossus.
The Choxi philosophy is "everything you love, for less" — and on the surface it certainly upholds this, selling literally thousands of items from fashion to electronics, famously boasting rock bottom, unbeatable prices with a twist — they're timed.
Now in its fifth year of business, Choxi swiped the 66th spot recently in Online Retailer's Top 500 Guide.
It claims to have leapt dramatically from $350,000 to $7 million in sales in just five years and is now housed on New York's Park Avenue South.
They've also caught the eye of industry execs, with founder Deepak Argawal speaking at Deutsche Bank's 2015 Tech Conference in Vegas.
With this kind of success, some people out there must be loyal and satisfied customers. But, some would-be customers have been left wondering if it's all too good to be true…
Legitimate or a Scam?
One must wonder when a company changes its name so frequently.
Horror stories of wrong orders and stubborn customer service litter the internet, and the "Choxi/Nomorerack Consumer Customer Complaint Page" on Facebook has amassed nearly 4,000 followers.
In contrast, pleased customers proudly display Choxi hauls on YouTube and Choxi itself has 4.2 million Facebook followers.
But, its legitimacy has been questioned at times by regulators.
In 2013, Choxi (then NoMoreRack) was asked by the Better Business Bureau to substantiate claims including "…up to 90% off retail", "…best and most trusted choice," and "…the lowest prices." Choxi responded satisfactorily within one month, and the case was closed.
Is jClub really a fraudulent operation luring customers in with the promise of more for less? Or do innocent but busy e-commerce companies sometimes simply get it wrong, particularly when they are just starting out?
We've done some digging and aim to get to the bottom of jClub's reputation. And, most importantly, should you shop on jClub?
How to Buy
The site claims to source all of its products primarily via manufacturer closeouts, overstock products, and canceled orders.
They then offer their findings at 60-90% off the recommended retail price, ensuring a better deal for you on a great quality product.
jClub requires you to build a profile in order to shop. No quick checkout options here — jClub claims you won't miss out on its fantastic deals if your details are already saved — although you can sign up from as little as an email address and password.
Your next step is to find yourself a bargain. Search from clothing to electronics, homeware to lifestyle, and fill your basket.
All items on jClub are individually timed in hours, minutes, and seconds until that offer expires. The hours left on an offer can climb into the thousands but equally can dip as low as one or two.
Deals go live daily at 12 p.m. EST. This means new items every single day at reduced prices.
Sold-out deals are often labeled as such, but the one time I chose something that had sold out without saying so, I was offered free shipping by way of apology. It was only good for one hour and counting, though.
Also popular are the events — basically deals grouped together by one common factor. By far the most sought after and scoured is the "Everything $2" event. Literally, everything is $2.
It's easy to see how mad rushes develop. It's a wonder the site doesn't crash every day at 12:00.
The timed "stack 'em high, sell 'em cheap" method obviously really works. But, how does it stack up against other sites?
Is the site really offering great deals or does the time limit on the offer pressure us into buying something that might not be as good as it seems?
How Much Can You Save (And, Are You Really Saving)?
Good question. Let's take this Cuisinart stainless steel programmable 15-bar espresso maker.
jClub has it for sale at $89. It also states quite clearly that the product retails at $365.
You're saving 76% according to jClub — now who wouldn't be pleased with that?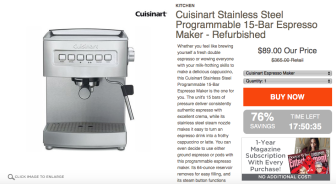 But, the thing is, when you look a bit closer, you're not saving 76%. You could potentially be paying $10 more than the market leader — you've guessed it — Amazon.
You see, it's all in a word — refurbished. Not all products from jClub are refurbished.
But, in departments such as electrical and homeware, any bigger, expensive, and certainly branded products are likely to bear the refurbished stamp, including laptops, cameras, televisions, phones, wearable tech, and appliances.
Particularly if a product is new to the market, jClub will not be able to get these through its traditional methods of overstock sales because the items are still in demand direct from the manufacturer. So, new products too will tend to be refurbished.
jClub does state clearly that products are refurbished and points out that refurbished and recycled items are an eco-friendly way to shop. It's true, we could all do with a little less waste.
But, if jClub is selling you a secondhand item, should the site really be comparing the savings to that of a new one? Maybe that's a matter of principle, but you can't argue with the numbers.
Amazon offers the same espresso maker brand new for $182.62, a saving of 50% off the MSRP, but it also offers a refurbished product for $79 — that's 11% less than jClub.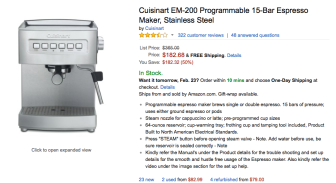 The problem is that refurbished products aren't standardized. Therefore, what you get is simply what the vendor considers to meet a good, like-new standard.
The price difference would suggest jClub's espresso maker is refurbished better than Amazon's. It's subjective, and open for discussion, but the point is there is a cheaper alternative out there.
Another way jClub beats the competition is by failing to state the brand name of certain items. Maybe it would be cheaper elsewhere if you knew where it came from in the first place to compare it.
But when your deal is timed, who has time to search online for similar products? Maybe that's what jClub is counting on.
While it claims to offer 60-90% off, its offers are by no means all this good. Having spotted a deal at 15%, I decided to search by discount, lowest to highest, to see if there was anything for less.
I was not disappointed. One item offered an impressive 0% savings, actually proving to be $0.01 higher to purchase from jClub than the retail price.
That's not exactly in keeping with jClub's core values and principles of everything for less.
Beware too of artificial price inflation. In order to substantiate claims of over 50% off, many businesses have been caught inflating prices.
Seeing anything 80% off makes you feel pretty savvy, but the claims are often exaggerated.
While Choxi has never been publicly shamed for doing this, it didn't take me long to find an ad for an unbranded 4GB Micro SD card with SD adapter for $1, with a retail price of $29.99. Amazon sells a branded SD card of the same size with adapter for $5.38, with a retail price of $16.39.
The lack of a brand makes it difficult to substantiate exactly how much a jClub shopper will save, but if a branded SD card retails at $16 full price, doesn't $30 seem a little steep for an unbranded product?
The Downsides — What Makes it Seem Scammy?
$2 flat shipping per item. For some products, shipping can be higher than the item itself. This is also not good for when you buy multiple items. jClub doesn't offer free shipping once you buy 'x' number of products like many other online stores.
Timed deals and low stock indicators. The clock can give you anxiety. That can lead to panic buying things that you might not necessary need, want, or can afford.
Customer service by email only. Sometimes you just want to speak to a human.
No universal size chart. Each product requiring a size chart will have its own individual one. Don't let it catch you out and require you to potentially pay…
…return shipping fees. These will be deducted from your refund amount, should you return an item. You may also incur a 30% restocking fee which is displayed on the site, but you will have to look for it.
The Upsides — What Makes it Legitimate?
Good deals at low prices. It does deliver on this one, at face value anyway, but remember to price check elsewhere.
Small suppliers get a boost. The site deals directly with suppliers, so start ups and small companies can gain exposure and grow.
$2 flat shipping per item. Good if you're buying something large and/or heavy.
"100% Authentic" – this is the jClub promise. Just remember to check if your stuff is brand new or refurbished.
Get a year's free magazine subscription with every purchase. Not as gimmicky and useless as some freebies out there.
It's charitable. Through its Charity Deals, the site helps multiple charities continue their good work. Giving made easy.
Not For You? Try These Equivalents…
The idea of flash sales and timed sales has really taken off in recent years — when jClub was still NoMoreRack. Saving money is now fashionable, and the internet is getting bigger each day.
Several sites have come up with innovative ideas, such as sales only lasting for 24 hours or focusing on your city or area to help local commerce.
If you're still not sold on jClub, there are similar sites out there:
Woot!: Offers daily deals lasting one single day, or until the product has sold out. Woot! was founded way back in 2004, and even has a wine section.
1 Sale: Offers one item posted at a highly discounted rate at midnight every night. Several sister sites now run successfully, focusing on specific products.
Daily Sale: Offers 24-hour timed sales based in Florida. A similar range of products to jClub, but with a smaller following.
Want a more laid back experience? See our article: Is Overstock Legit? Is Overstock Safe to Purchase From? The Review
Should You Dish Out Your Cash?
Repeat business accounts for the majority of jClub's sales. These are obviously satisfied customers who like the idea of price-slashed bargains.
Perhaps these people have been fortunate enough not to incur any problems with the site or just aren't put off if they have.
But, it seems to some potential customers, jClub is tainted by bad experiences and isn't doing quite enough to shake off its bad rep, nor allay the fears and suspicions of new or would-be customers.
Sadly, you're more likely to hear a bad story than a good one online, so while raging consumers shine through, the "arrived quickly" and "good item!" posts get lost in the sea of negativity. But don't forget they are out there!
Be aware too that many jClub products are sent directly from the supplier, rather than a jClub warehouse or depot.
Many disappointed buyers state online their faulty / incorrect product came from Nepal, India, or China — but it wasn't jClub who picked, packed, or sent the item, yet they get the blame as the point of sale and first recipient of buyers' cash.
Again, this is an issue they need to find a better resolution to — perhaps better liaisons with suppliers or instilling a "fulfilled by" promise, similar to Amazon.
But, is jClub a scam? No, we don't think so.
Should you shop there? Yes — if something catches your eye and it really is the best price out there, then there's every reason to expect the good quality item you ordered to arrive quickly and in perfect condition, like any other retailer.
But, as ever online, exercise some caution and shop aware.
What to Know Before You Shop
Remember to read carefully what you're getting. jClub states when its items are refurbished. Similarly, in the FAQ, it openly admits some of its clothing labels may be cut. Would it be nice if this were displayed on the item page? Maybe, but it is also up to you to research.
Know your rights. jClub only lets you communicate with them by email. But, look on the bright side — this means plenty of time to draft a factual and well referenced email that will get your point across and get your issue sorted — no arguments needed.
If it seems too good to be true — it probably is. Always research and check for better prices. Google shopping and similar price comparison sites can help you identify a benchmark price for items and work out if you actually are getting a good deal. Again, always price compare to make sure jClub is giving you a good deal!