An insurance salesperson said I have the cheapest policy she has ever seen! We'll show you how to get your car insurance even lower than $18 per month by picking the right type of insurance (you're only required state minimum liability) and applying discounts, such as a good driver discount and by paying your bill on time.
My Car Insurance Policy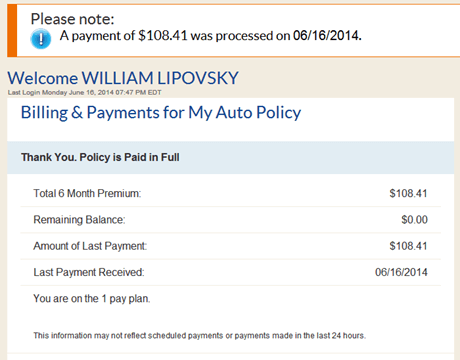 Provider: GEICO
Price per month: $18.07
Price per six months: $108.41
Policyholder: Myself
Age, Gender: 23, male
Vehicle: 1999 Mitsubishi Eclipse GS. Clean title. Color doesn't matter. GEICO said if I had the faster (AWD Turbocharged) version of my car, the policy would still cost the same.
Type of Insurance: State minimum liability. This means, if I crash into someone, GEICO takes care of all the damage, except for what happens to my own car. The state minimum is the minimum amount of insurance coverage mandated. If you want more coverage than the minimum, GEICO quoted me 70 cents extra for another $75k in coverage.
Discounts: $65.91. My discounts include a Good Driver Discount (for no traffic violations) and a Financial Responsibility Discount (for paying my bill on time). The Sponsored Marketing discount is something I received for belonging to an honor society in college; there are many organizations GEICO partners with for this type of discount. Other discounts that may apply to you: student discounts, being a driver on your parents' policy, and driving an older car.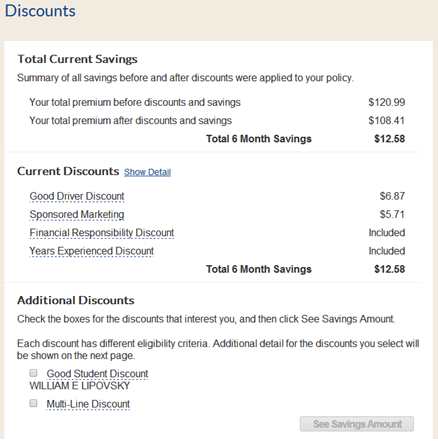 Negotiation skills required? I called GEICO on multiple occasions and spoke with quite a few people and got the same result. No negotiation required.
Cons on my record: My car insurance lapsed for over a year. It's like losing your credit score and having to rebuild it. My insurance would be cheaper had that never happened.
Pros on my record: I've never had a traffic violation.
Other Insurance Companies' Quotes
Allstate: $26 per month
State Farm: $27 per month (by piggy-backing on my parents' policy)
Travelers/AAA: $33 per month
21st Century: $45 per month
American Family, Progressive, and Nationwide: Each quoted $50-$60 per month
Liberty Mutual: $74 per month
The General and a few others: So high I won't even write it here!
In Summary
I called a lot of insurance companies and people in the business to pick their brains for this article. My biggest takeaway was: Don't go with an insurance agent. You will always pay more when you go with one. How do you think the insurance company pays them? You pay them.
Also, all cheap auto insurance comparison sites are garbage. Yes, they will give you a rough idea of what each company charges but you never know the real amount until you call the company directly.
Since I rarely drive my car, I looked into plans that would reward me for limited miles. Progressive's Snapshot Discount program was the only one that came close to GEICO.
Oh, and GEICO's customer service is top notch! Car accidents tend to be less stressful when you've got a good group of people on your side.
Suggested article: The List of Car Insurance Companies That Don't Check Your Credit