There are several ways to cash a check, including cashing or depositing it at a bank (lobby or ATM), cashing it at a retail or check cashing store, depositing it through an app, or depositing it to a prepaid debit card.
Before cashing your check, you must endorse it. Once you have done so, you can cash or deposit it; we explain how below.
How to Endorse a Check
Endorsing a check is simple. All you need to do is sign your name to show that you authorize the bank or financial institution to cash or deposit the check for you.
On the back of the check, look for the line marked with "Endorse Here" and/or an "x," — that's where you'll sign. (We provide an example of a check properly endorsed by "Jane Smith" in the image below.)
If using a mobile deposit service, there may also be a "For Mobile Deposit Only" box you can check.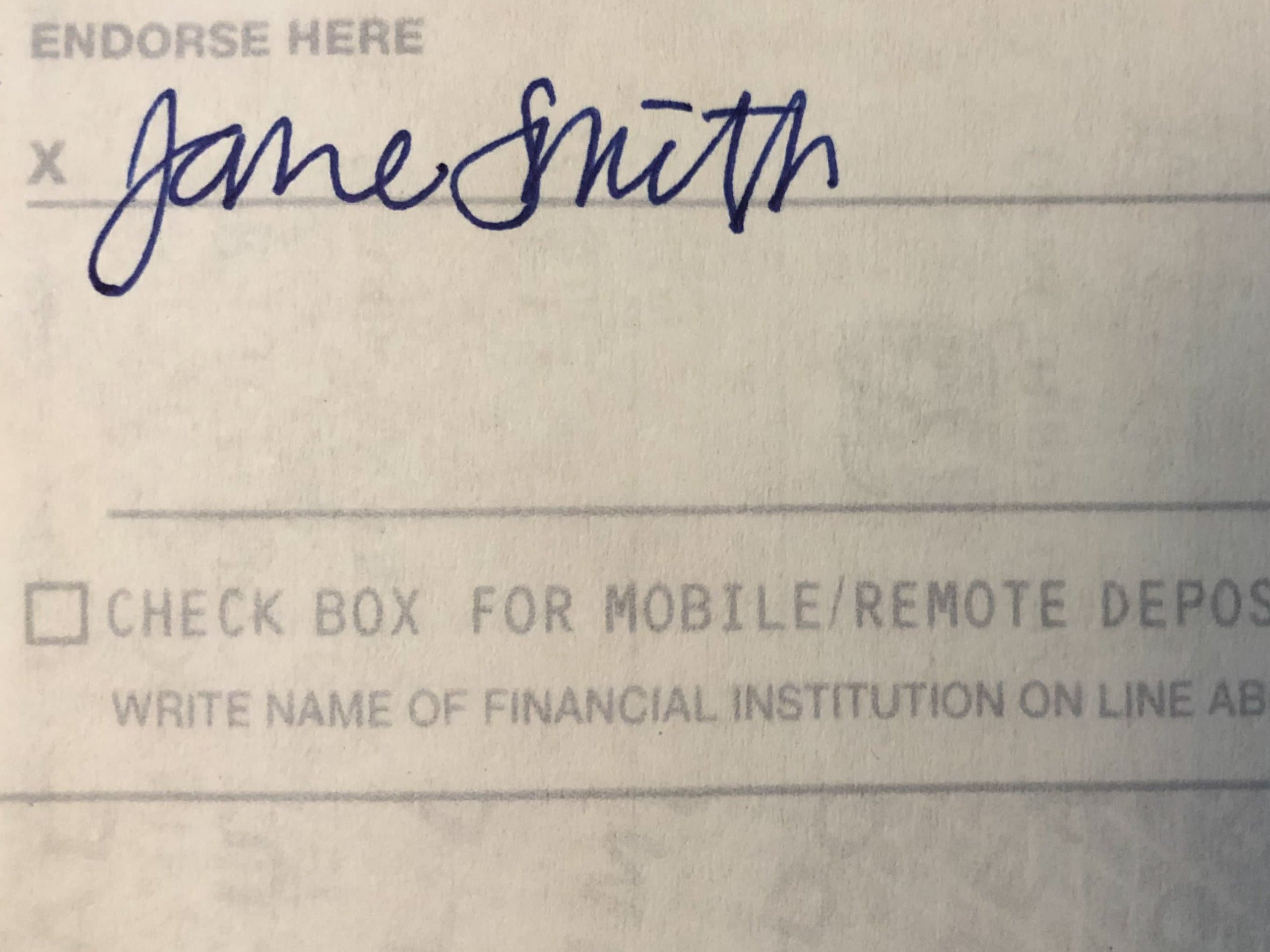 Most checks have only two parties, the person or business that writes the check and the recipient; our related research details
how to endorse and cash a third-party check
.
Note that unless you create a third-party check, you can't have someone else cash the check for you.
Cashing/Depositing a Check at a Bank
If you have a bank account, you can typically avoid a check cashing fee by cashing/depositing your check with a teller (in the lobby or in the drive-thru) or at your ATM.
To cash a check at a teller or drive-thru, you'll need to provide the endorsed check and your ID; to deposit it, you may also need to fill out a deposit slip.
A deposit slip includes your name, account number, and deposit amount. Your bank will provide a deposit slip for free if you need one; you can find stacks of them in the bank's lobby or at the counter and ask for one at the drive-thru.
If you make frequent teller deposits, you can pay to order packs of deposit slips pre-printed with your name.[1][2] Note that not all banks or credit unions require deposit slips for every transaction, at the discretion of the branch.
If you choose to use the ATM, you won't need your ID or a deposit slip, but do remember to endorse your check before you submit it.
Note that if your current account balance does not cover the full amount of the check, you can't cash it immediately at the ATM; you will need to deposit the check and wait for it to clear, then get cash in a separate transaction.
A portion of the check may be available to you immediately, depending on your bank's policies. Once the check clears, the remainder will be available for withdrawal.
Cashing a Check at a Bank Without an Account
If you don't have a bank account, you may be able to cash your check at the bank or credit union the check is drawn from for a fee. The front of the check should show this information.
Keep in mind that not all banks and credit unions serve non-members; there might be a check amount limit for non-account holders as well.
For more information about fees, limits, and rules, see our research on check cashing at Chase, Citibank, and U.S. Bank, plus banks that cash checks for non-account holders.
Cashing a Check at a Store
If your check is drawn on a bank or credit union that won't cash your check, you have additional options.
Check cashing stores and chain retailers (such as Food Lion, Kroger, Walmart, and The Check Cashing Store) offer check services for a fee.
Check cashing is typically done at the customer service counter, so check with your local store for the customer service hours. Stores that are open 24 hours usually only operate the customer service desk during daytime hours.
At grocery stores and other retail stores, the fees are usually around $3 or less, while dedicated check cashing stores may charge fees up to 10% of the check amount.
See our research on places that offer free check cashing, as well as our list of convenience and grocery stores that cash checks.
Cashing a Check in an App
Major banks, PayPal, and some other check cashing services like Ingo Money offer apps that allow you to cash or deposit your check online. You will endorse the check and submit pictures of the front and back of it.
For more details, see our research on how to cash a check online. We also have the lists of mobile check cashing apps. Note that it may take a day or two for your money to clear.
Prepaid Debit Card Deposits
If you use a prepaid debit card, its mobile app may allow you to deposit a check to the card. You will endorse your check by signing it and then writing "For Mobile Deposit" under your name.
Once you log into the app, you will take and submit pictures of the front and back of the check along with the check amount. These deposits can take up to ten days to process, depending upon the card. Some cards offer fast processing with a higher fee.
Note: Regardless of where you cash or deposit a check, you will often need a government-issued photo ID, such as a driver's license or state identification card.
Our related research explains what you need to cash a check. If you don't have an ID, see our research on check cashing options without ID.