A hydraulic liftgate is a convenient way to load heavy items into the bed of a truck.
The steel liftgate lowers to the ground with an electric hydraulic system, rising or lowering with a push of a button for ease of loading and unloading your items.
There are several rental companies — both national and local — that rent out trucks with liftgates.
For moving truck purposes, you'll most likely rent either a truck with a cantilever lift or a tuck-away lift.
A cantilever lift can tilt and provide a ramp to load items into the back of a truck quickly. There are typically three buttons that are used to tilt, lower, and lift the gate.
With a tuck-away lift, you have the option of not using the lift at all. However, if you know you won't be using the lift, it's usually cheaper to rent a moving truck with a manual pull-out ramp.
Whether you rent a truck with a cantilever lift or a tuck-away lift, you'll want to ensure you're properly instructed on how to use this feature before you drive away from the rental location.
Below, we list the rental truck options that include lifts.

What We Recommend
For nationwide availability, Penske is likely your best bet for renting a truck with a liftgate. You only need to be 18 to rent, and you can rent as long as necessary, even if you need to travel out of the state.
Ryder has similar offerings for trucks with liftgates, but note that neither company will allow a one-way rental for a truck with a liftgate.
Budget Truck allows one-way rentals, but it'll only allow you to rent trucks with liftgates for commercial use (not personal).
There are also several good regional options — such as CC Rentals in New York — that offer trucks with liftgates. These companies may allow one-way rentals, but you'll need to confirm the specifics of your trip with the company.
Comparison Table
See the table below to quickly compare the companies that rent trucks with liftgates, then select any company name or scroll for more details.
The List
The following rental businesses offer online reservations or quotes and a variety of truck types.
Most truck fleets offer automatic transmission, air conditioning, power brakes, and power steering to make handling a large truck a little less difficult.
When renting from one of these companies, be sure to understand the company's policies and fee structure before confirming a reservation.
Note that many truck rental locations have the right to restrict the allowance of one-way rentals, even if the company's policy typically allows them. You should contact your intended rental location to make sure that it'll allow a one-way rental.
We've ordered the list below starting with the best overall options (specifically those with nationwide availability).

1. Penske

2. Ryder

3. Enterprise Truck Rental

4. Budget Truck Rental
Note: Liftgates are only available to commercial (business) customers. If you aren't renting on behalf of a business, you can rent a Budget truck with a manual loading ramp.[16]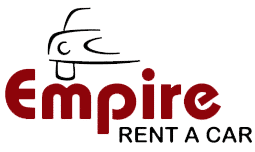 5. Empire Rent A Car (New York City area)

6. Avon (Los Angeles, CA)
Companies That Don't Offer Rental Trucks With Liftgates
In the course of our research, we found that the following car and truck rental companies don't rent out trucks with liftgates:
For more about moving equipment that you can rent with trucks, see our list of rental companies that rent out car tow dollies.